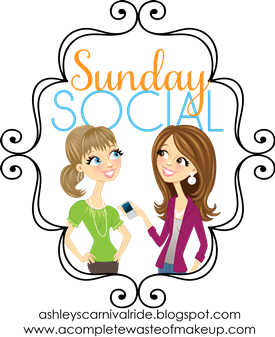 Linking up with the Sunday Social again :)
Thanks so much to
Ashley
and
Neely
for hosting!
1. Favorite thing to do on a rainy day?
Curl up with a pile of blankets, a mug of tea, and a sappy chick flick/book somewhere that I can watch the rain. I also love camping in the rain (as long as I don't need to put up/take down in it). The sound of rain on a tent is one of the most relaxing

things

ever (imho) :)
2. Favorite thing to do on a Summer weekend?
Find a spot on a sunny beach with a good book and some snacks :) (Or pretty much anything with friends/family :)
)
3. Favorite Spring accessory?
Well I love being able to wear flats and light jackets/blazers again... But I have a really great trench coat that I picked up a few years ago and I think that is probably my favourite. I feel like Audrey Hepburn every time I wear it :)
4. Favorite way to spend a Winter day?
Skating/playing in the snow with friends, and the promise of hot chocolate at the end :)
5. What is your favorite season and why?
I actually don't have a favourite season... I live in Northern Ontario and we have distinct season changes here (-35C in the winter and +35C in the summer) which I love :) And while they all have things I don't like I just try to enjoy the season that I'm in when I'm in it :)
6. Best birthday you ever had?
Probably 16th. My family made it really special :) Then agin this past birthday (20th) was pretty good as well... It was great to be surrounded with people that love me again :)
Have a great Sunday everyone! (And happy St. Patrick's Day!)