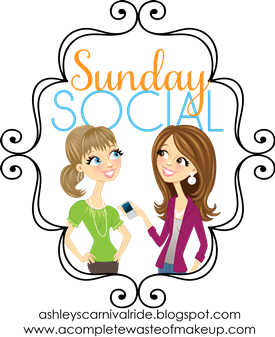 Another Sunday, another link up! This week's Sunday Social is all about one of my favorite things, traveling :)
Best trip you've ever been on?
I recently got back from a nine month trip to Africa and Spain. It was pretty amazing :)
Conakry, Guinea
Madrid, Spain


Best idea for a girls weekend trip?


Road trip! Or a week/weekend at a cottage somewhere. Or better yet a road trip to a cottage somewhere :)


Best idea for a couples trip?
Mmm.. Anywhere with a beach :)
Best vacation on the cheap?
Camping! My family and I have been camping since I was young and some of my favorite memories are from camping together :)


Place you most want to visit?
Oh, I have so many! My top ten are probably PEI, Italy,
Australia, Greece, the UK, France, India, Hawaii, Egypt and
more of Spain
. I have also recently have a yen to see the west coast of the States... Maybe California?


Vacation/Travel necessities?
A trench coat, a
versatile
dress, jeans, a big hat, sunglasses, a water bottle, my Kindle, my journal, my sketch pad, a brush, some sort of shampoo/conditioner combo, Blistex, sunscreen, some
neutral
makeup, at least one bottle of nail polish and my laptop.... There is more but that is what springs to mind at the moment :)
Don't forget to head over to Neely's blog to check out the link up!
Have a great Sunday! :)