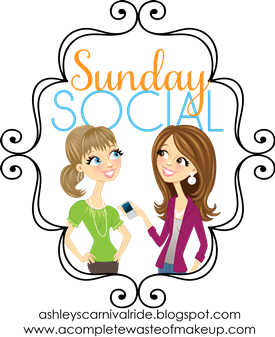 I know I am a bit late but I am linking up again with Neely and Ashley for Sunday Social week ten :)
If you could only eat one thing for the rest of your life, what would it be?
I really don't know. The problem with this question is that no matter how much I like a food I know that if I had to eat only that for the rest of my life I would soon start to hate it. So... no idea :)
What's your guilty pleasure/comfort food?
I don't have one ... Although if I have to choose one probably some kind of chips...
What's the weirdest/craziest thing you've ever eaten?
Well I did eat some tripe in Spain
... I did not particularly enjoy it but the Spanish people I was with were super impressed ;)
What foods do you avoid at all costs?
I am not a very picky eater... but I do try to avoid brussel sprouts and raw onion... I am not a huge fan of cooked tomato and pepper either. I love raw tomato and pepper though.
What meal reminds you of your childhood?
A dutch dish called Zuurkool Sofiya... It is totally awesome :)
Share one of your favorite recipes and the story behind it.

Mason Jar Brownies
Layer in 1 quart mason jar:
-1/2 c and 2 tbsp flour
-3/4 tsp salt
-1/3 c cocoa
-1/2 c flour
-2/3 c brown sugar
-2/3 c white sugar
-1/2 c chocolate chips
-1/2 c vanilla chips
When ready to bake, blend jar ingredients in a large bowl.
Stir in:
-1 tsp vanilla
-2/3 c oil
-3 eggs
Bake in a greased 9x9 pan at 350 for 20- 30 min.
These are the best brownies ever! I make them all the time and I love that they are quick and easy to whip up :) (They also make a great gift... Just give the jar with the dry ingredients and a tag with the rest of the instructions.)
They don't have much of a story that I know of... My mom has been making for as long as I can remember :)
I hope you all had a great Sunday! Did anyone else watch the Closing Ceremonies? I loved the dancing at the end right before the
extinguishing
of the flame :)