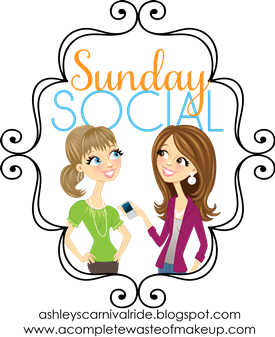 Today I am linking up with Ashley and Neely's Sunday Social. They post some fun questions each week and I am going to try to answer them :) Go and check out the link for a ton of amazing bloggers :)
Now for this weeks questions:
- How did you come up with your blog name?
Because I feel like right now a lot of thing in my life are at the 'maybe fabulous' stage: Starting university, what I plan on doing with my life, even where my personal style is going! I feel a bit like I am on the edge of everything and just maybe everything could turn out fabulous :)
-What is your favorite thing about blogging?
I like getting my thoughts and ideas down. I started this blog because I am going through a hard point in my life right now, and if I have a hard day (or even an easy one) it is really nice to have somewhere to 'talk' about it :)
- What is one thing you have discovered because of blogging and now can't live without?
I don't know that I have been blogging long enough to really have anything I can't live without, but I have discovered how much I love having a reason to write more frequently :)
-Facebook or Twitter? Why?
Well, I don't have Twitter so I guess I will have to say Facebook :)
- If one celeb read your blog who would you want it to be?
I don't know! I think that if anyone famous read my blog I would be thrilled :)
- What is something you want people to know about your blog?
It is just me. I am just writing to write and enjoying it :)
So there you go! I hope that you enjoyed learning a bit more about me and my blog. Don't forget to check out all the other bloggers who linked up :)